Mon 4 December 2017, 19:00 – 21:00, Centre for Contemporary Arts, 350 Sauchiehall Street, Glasgow, G2 3JD, tickets £5. Buy them here
It was a Pacific island paradise…until the United States tested nuclear weapons and conducted secret human radiation experiments. Experiments that would remain top-secret for decades….Until now…
This documentary reveals a shocking political expose, and an intimate ethnographic portrait of Pacific Islanders struggling for survival, dignity and justice after decades of top-secret human radiation experiments conducted on them by the U.S. government.
Trailer – "Nuclear Savage: The Islands of Secret Project 4.1."
The film showing will be followed by a Skype discussion Dr Vanessa Griffen of Suva, Fiji, is a Pacific supporter of ICAN (formerly a member of the Fiji-based ATOM Committee Against Testing on Moruroa and a member of the Nuclear Free and Independent Pacific NFIP movement). She will talk about French Polynesia tests which went on for 30 years. This will be followed by a short Q&A session.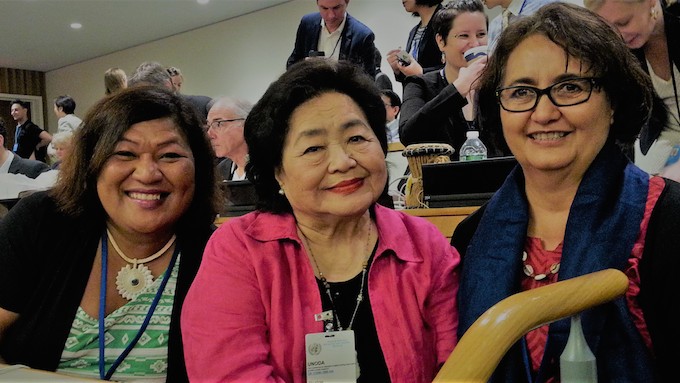 Vanessa Griffen (Fiji, right)
Unfortunately the venue can only accommodate up to 74 people so please get your tickets soon.
This event is organised by Peace Education Scotland (SCND Education).
Tickets can also be bought offline. Please contact the office – 01413571529